Copyright © Michael Richmond. This work is licensed under a Creative Commons License.
Photometry of lunar graze of XZ 78191 on Apr 4, 2006
Michael Richmond
Apr 23, 2006
Table of contents:
---
Steve Messner observed the Moon graze the star XZ 78191 = GSC 1874-0731 = TYC 1874-731-1. His location was (I think) the Harvest Moon Observatory, 93.12939 W, 44.49933 N, altitude 945 feet. He writes:
At 2:07:06 - 2:07:07UT April 4, 2006 I recorded an occultation of XZ 78191. The primary star was occulted at about 2:07:06.563. A dim (~12mag or a little dimmer) secondary star was visible with steady brightness for 6 fields (3 frames) until 2:07:06.663.

The equipment is a 45cm Newtonian, Pc164 camera and a Kiwi Video time inserter. The events are recorded to tape and most of the time an AVI file is made simultaneously . That AVI is then analyzed visually field by field using Virtual Dub.
Steve kindly sent me a brief clip of one small portion of his tape around the disappearance so that I could analyze the data independently, using my own software. The video clip covers about six seconds of time at standard video rate and in NTSC format.
Actually, Steve sent me three different versions of the video clip, at different contrast levels. I chose the clip with the gentlest contrast -- that is, smoothest background appearance.
---
First, I broke the video clip into individual frames using mplayer. The result was a set of 239 JPEG images, each 720 x 480 pixels in size. The typical size of each frame was about 210,000 bytes, which means that there were on average about 5 bits per pixel used to represent the original 8-bit data.
Here's a sample frame, the first one in the series. Note that the time of this frame is UT 02:07:01.808, with an uncertainty of plus-or-minus 17 milliseconds.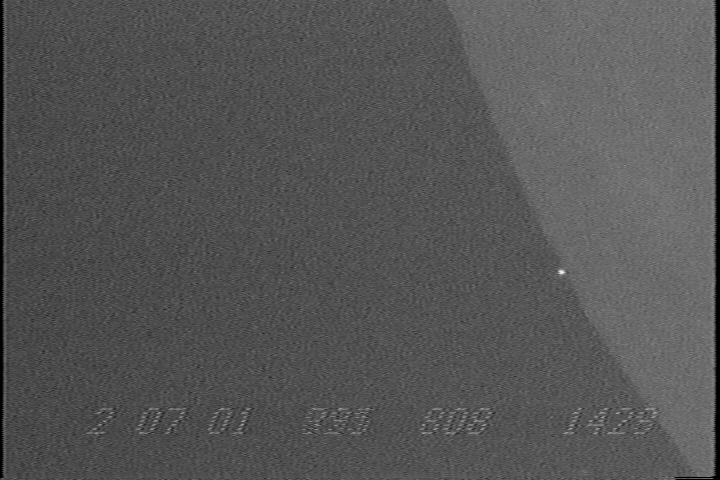 My images consist of full frames; that is, each image represents 1/30 second of exposure time, with 2 interlacing "fields" added together. Based on the 239 frames and their inserted times, I find an interval of 0.0333655 seconds per frame, or a rate of 29.971 frames per second.
There were, alas, no comparison stars or sunlit peaks on the lunar surface which I could use as references.
In order to process the data, I
converted from JPEG to FITS format via ImageMagick tools

analyzed with programs from the XVista astronomical image processing package
The only star visible in the frames is XZ 78191 itself. Some information on the star, taken from SIMBAD

     XZ 78191 = GSC 01874-00731 = TYC 1874-731-1  
 
     Bt = 10.897   Vt = 9.748

     RA = 05:48:34.45   Dec = +28:12:57.8


The FITS images showed that the peak pixel values in the star were just about 255 counts, so it might be slightly saturated. The FWHM of the star was around 4-6 pixels.
For each of the 239 frames, I
placed a large box covering both empty sky and dark lunar face just above the position of the target star, and used it to calculate a "background sky" and skysig value
created a small box at the last known position of the star
searched within this small box for the brightest object
noted its position; if the star did not appear, I pretended it was still at the last detected position
placed a circular aperture of radius 3, 4, 5 pixels (see below) around these position
added up all the light within this aperture
subtracted the contribution of the background "sky" using an annulus of radii 8 to 15 pixels
Here are quick views of the results.
The entire light curve, using an aperture radius of 4 pixels: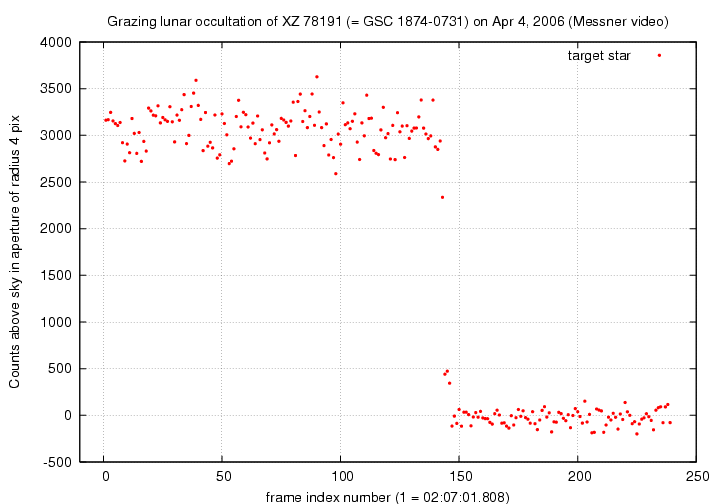 A closeup of the disappearance, using apertures of 3, 4 and 5 pixels. I've offset the curves for clarity.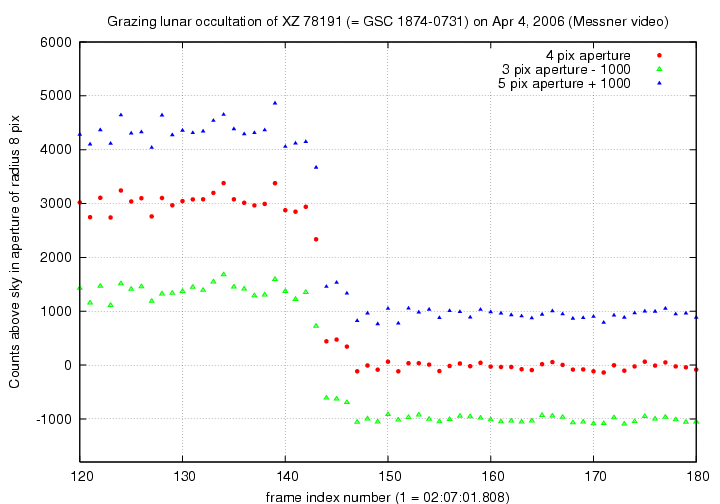 Steve estimated
... A dim (~12mag or a little dimmer) secondary star was visible with steady brightness for 6 fields (3 frames) until 2:07:06.663.
My record confirms that the star displayed a plateau in its light for 3 frames after the initial drop. My numbers yield a ratio of the residual light to the initial light of

aperture rad   before          after        residual fraction
-------------------------------------------------------------
  3 pix       2377 +/- 122    355 +/-  43     0.149 +/- 0.020

  4 pix       3022 +/- 175    419 +/-  67     0.139 +/- 0.024

  5 pix       3341 +/- 261    440 +/- 101     0.132 +/- 0.032
--------------------------------------------------------------

This is entirely consistent with Steve's estimate of a drop from mag 9.7 to mag 12, leaving 14 percent of the original light.

You can grab the data in a multi-column ASCII text file below. The columns are

 col              quantity          
------------------------------
  1              frame index

  2,3            flux of star in 3-pixel-radius aperture, 
                     and estimate of uncertainty in that flux
  4,5            ditto 4-pixel aperture
  6,7            ditto 5-pixel aperture


---
For more information
Copyright © Michael Richmond. This work is licensed under a Creative Commons License.