Variations in PSF across an S2KB image
Michael Richmond
Dec 11, 2004
The SNAP Calibration Team is investigating photometric properties of CCD images. As part of this effort, Nick Mostek acquired a set of images of the open cluster NGC 6940 with the WIYN 0.9m telescope and S2KB CCD camera. The images are about 20 arcminutes on a side; in the picture below, North is up and East to the left.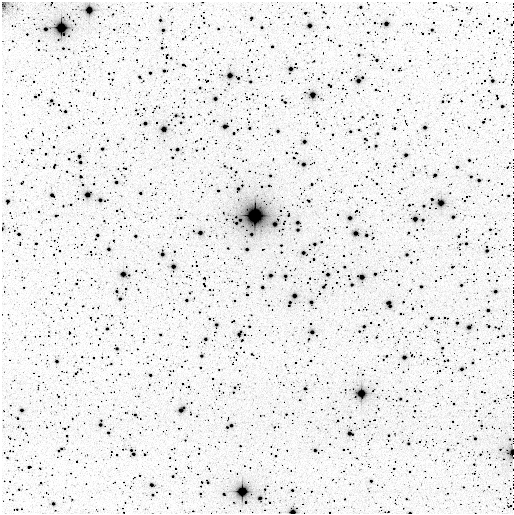 Nick shifted the cluster across the chip in a set of 11 exposures, so that stars would move from place to place on the camera. His analysis of aperture photometry indicates that there are significant variations in apparent brightness as a function of the location of a star on the chip:
One explanation for these variations is that the PSF might vary across the chip. I took a brief look at the PSF in one of the images.
I divided the image into nine sections: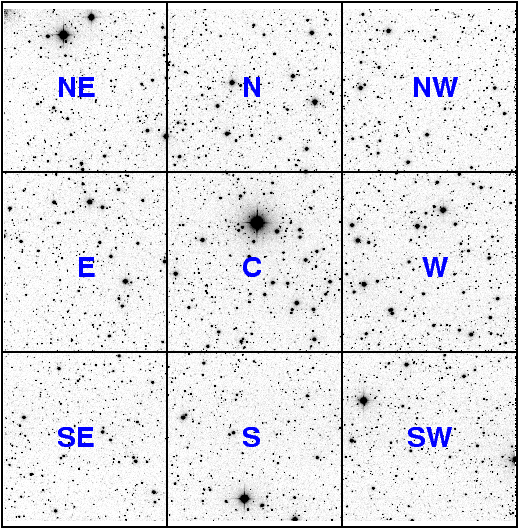 I measured the properties of bright, unsaturated stars in each section of the image, using both the DAOPHOT task within IRAF and my own software. My selection criteria (peak pixel values between 1500 and 25,000 counts) yielded roughly 30 stars in each section.
I measured several properties of these stars. I will show below three in particular:
First, using DAOPHOT's daofind task, I measured the sharpness and roundness. Below are graphs showing roundness (labelled "groundness") versus sharpness for stars in the image. Putting all the information on a single graph is too confusing, so I provide three graphs: one each for the three eastern sections, central sections, and western sections.
The three eastern sections: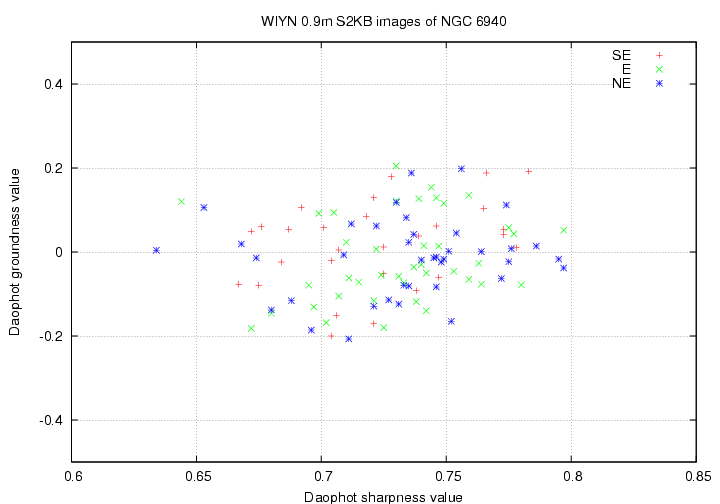 The three central sections: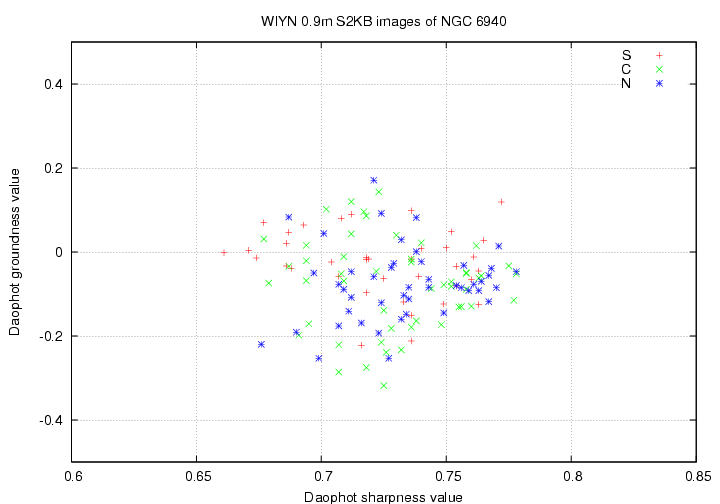 The three western sections: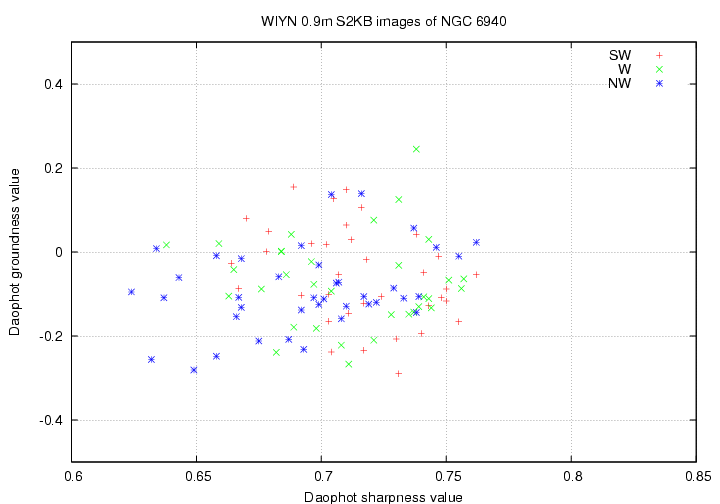 The systematic changes in the shape of the PSF are more clearly shown in graphs of the FWHM versus sharpness (determined by my own measurements); once again, I provide three graphs to avoid confusion.
The three eastern sections: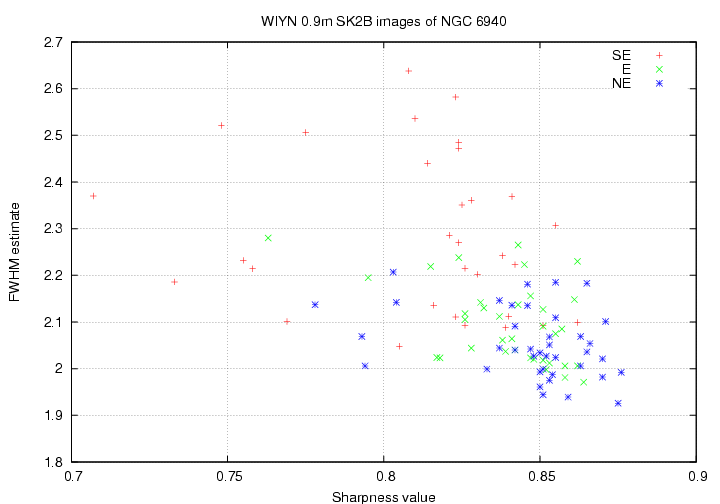 The three central sections: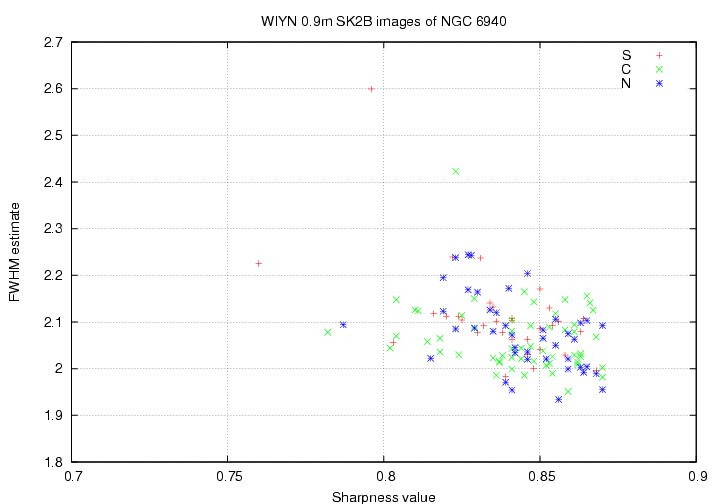 The three western sections: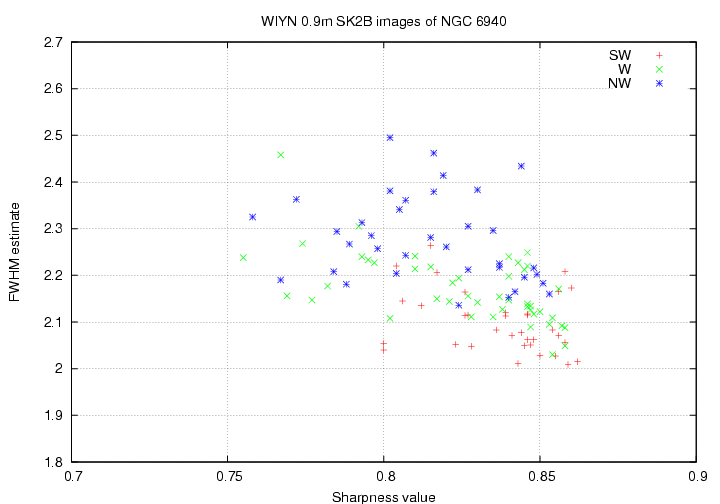 ---
Summary
I conclude that the PSF changes significantly across the field. It appears to be sharpest in the diagonal running from NE through center to SW. Differences in the FWHM are at least several tenths of a pixel across the chip.
On the other hand, Nick's analysis of the photometry shows residuals which vary in a circular pattern around the center, not a diagonal pattern. It is likely that one cannot ascribe the majority of the photometric residuals to changes in the PSF.