Jun 20, 2014 UT: ASAS-SN14cl
Michael Richmond
Jun 20, 2014
On the night of Jun 19/20, 2014, I observed the cataclysmic variable star ASAS-SN14cl. You can read more about this star, which was discovered only recently, at
This was my first observing session in about two months, so there were a number of minor items that I had to fix.
The main setup was:
Meade 12-inch telescope
no focal reducer, so working at f/10
SBIG ST-8E CCD camera with clear filter
30-second guided exposures of ASAS-SN14cl
Notes from the night
No moon until I was just leaving, skies were dark.
No clouds early, but some light cirrus for the final half hour or so.
Twilight sky flats.
The camera had some moisture inside, so ice crystals ruined the area around the bottom of the images. It didn't really affect the measurements, as far as I could tell. It was warm enough (upper fifties Fahrenheit) that the camera would only go down to -10 Celsius.
Here's a chart of the field of ASAS-SN14cl, which is at

      RA = 21:54:57.62     Dec = +26:41:16   (J2000)

Some of the reference stars marked above have magnitudes the UCAC4 AAVSO chart 13493SS. Specifically, star "B" above is
star "123" in the AAVSO chart
star UCAC44 584-123918
has V-band magnitude 12.335
I took 30-second guided images through clear filter. There's a good guide star available if the target is placed on the chip at (353, 143). After discarding the bad images, I was left with 164 images.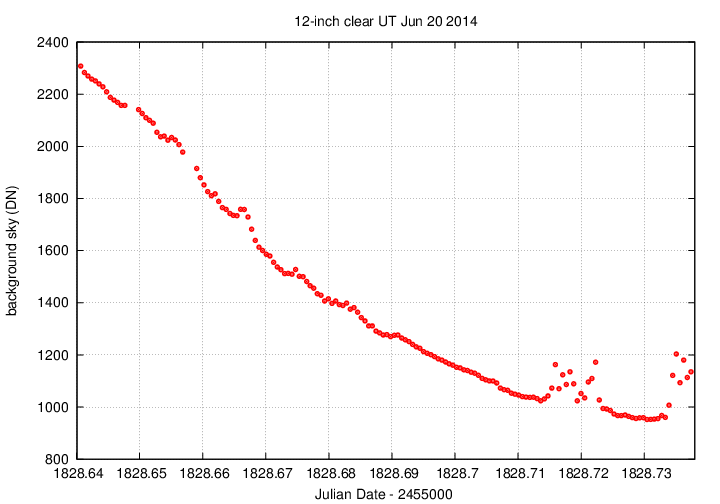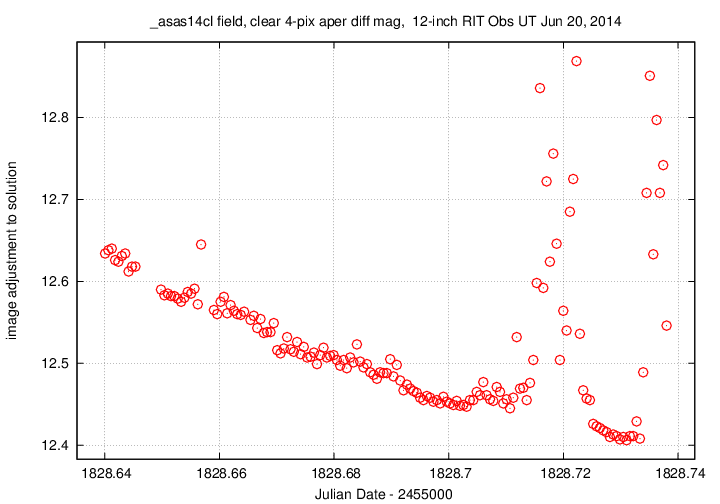 Using aperture photometry with a radius of 4 pixels (radius of 7.4 arcsec), I measured the instrumental magnitudes of a number of reference stars and the target. Following the procedures outlined by Kent Honeycutt's article on inhomogeneous ensemble photometry, I used all stars available in each image to define a reference frame, and measured each star against this frame. I used the AAVSO V-band magnitude of star "B" to convert the ensemble instrumental magnitudes to a reported "V"-band magnitude (but remember, it's a clear filter).
The target is the second-brightest star below; its scatter is just a bit larger than that of stars of similar brightness.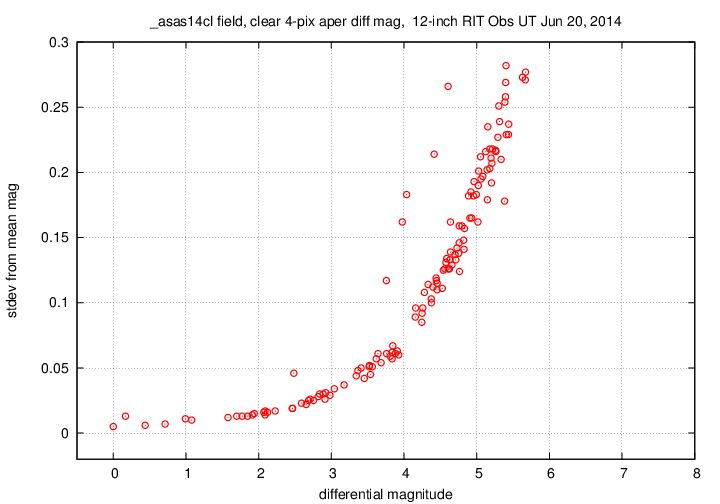 The target had a "V"-band magnitude of roughly 12.0, and it showed just a little bit of gradual, slow variation over the course of the 2.4 hour observations: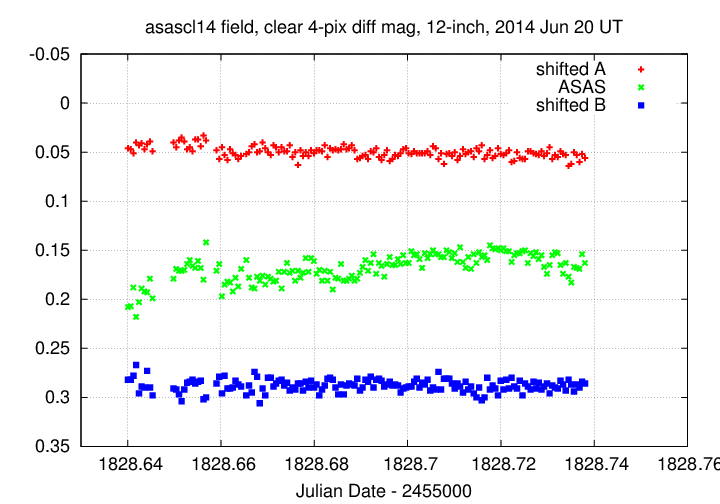 Grab the text file below for all the RIT measurements of ASAS-SN14cl. The header of the file is shown below.

# Measurements of ASAS_SN14cl made at RIT Obs, Jun 20, 2014 UT, 
#    in good conditions, 
#    by Michael Richmond, using 12-inch Meade and SBIG ST-8E CCD. 
# Exposures 30 seconds long, no filter. 
# Tabulated times are midexposure (FITS header time - half exposure length) 
#    and accurate only to +/- 1 second (??). 
# 'mag' is a differential magnitude based on ensemble photometry 
#    using a circular aperture of radius 7.4 arcseconds.  
#    which has been shifted so UCAC4 584-123918 has mag=12.335 
#    which is its V-band mag according to AAVSO chart 13493SS.  
# 
# UT_day             JD            HJD        mag    uncert
Jun20.14007     2456828.64007  2456828.64140  12.105  0.007 
Jun20.14065     2456828.64065  2456828.64198  12.104  0.007 
Jun20.14124     2456828.64124  2456828.64257  12.085  0.006 


---
Last modified 6/20/2014 by MWR.