Jun 14, 2016 UT: Photometry of SN 2016coj in NGC 4125
Michael Richmond
Jun 21, 2016
On the night of Jun 13/14, 2016, I observed SN 2016coj in NGC4125.
The main setup was:
Meade 12-inch telescope
no focal reducer, so working at f/10
SBIG ST-9E CCD camera with BVRI filter, 1.38 arcsec/pixel
30-second guided (VRI) and unguided (B) exposures
Notes from the night
wispy cirrus at sunset, looked pretty clear later
FWHM ranged from good to bad
twilight sky flats
the filterwheel had some problems early, while I was preparing for flats. I fixed it by unplugging and re-plugging all three cables going into the ST9 camera and its filterwheel.
SN 2016coj is a Type Ia supernova in the relatively nearby galaxy NGC4125. It was discovered by the KAIT group some time before maximum light:

Here's a chart showing the galaxy, the SN, and some reference stars; the chart is about 12 x 12 arcminutes.

NGC 4125 RA = 12:08:05.7 Dec = +65:10:30 (J2000)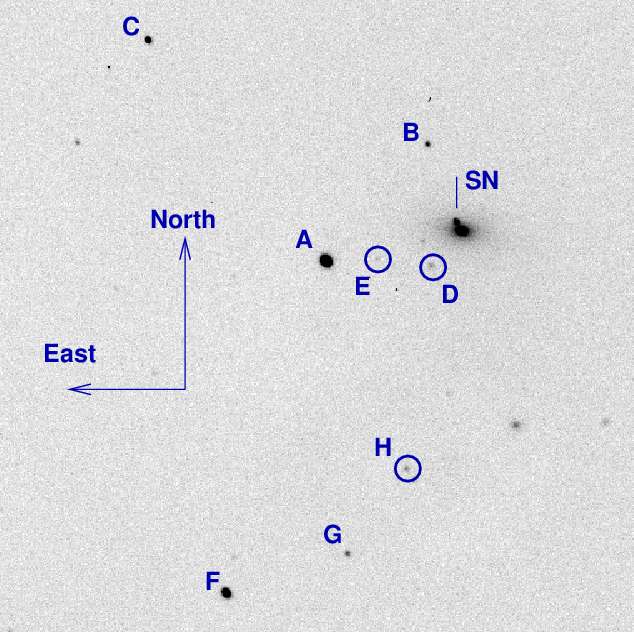 There are, alas, no really good sources of photometry for the stars marked above. I have created an interim set of magnitudes using the UCAC4 and converting the SDSS r and i magnitudes into Johnson-Cousins R and I via the conversion formulae of Jester et al. (2005). I hope to replace these interim values with better ones at some point.

letter   B     sigB    V     sigV    R     sigR    I    sigI
-------------------------------------------------------------------------
A      10.981 0.004   9.888 0.006   9.247 0.032   8.651 0.036   
B      15.202 0.004  14.130 0.005  13.621 0.032  13.146 0.035  

C      13.320 0.004  12.671 0.006  12.302 0.032  11.955 0.036 
D      15.939 0.003  15.038 0.007  14.370 0.031  13.749 0.034 

F      13.066 0.004  11.663 0.006  10.947 0.032  10.282 0.035  
G      15.047 0.006  14.365 0.006  13.977 0.032  13.613 0.035 
-------------------------------------------------------------------------


I took sets of ten to twenty 30-second images in each filter. I discarded any trailed images.
On this night, I switched the order of filters from BVRI to RVIB -- I think that works better as the sky darkens.
I used the rotsub technique to remove the galaxy's light, as best I could. It's not perfect.
Using aperture photometry with a radius of 4 pixels (radius of 5.5 arcsec), I measured the instrumental magnitudes of a number of reference stars and the target. Following the procedures outlined by Kent Honeycutt's article on inhomogeneous ensemble photometry, I used all stars available in each image to define a reference frame, and measured each star against this frame. I used the interim reference magnitudes above plus color terms which I am currently revising -- so please treat these results as preliminary to convert the ensemble instrumental magnitudes to the standard Johnson-Cousins BVRI scale.
Results from this evening are:


filter  mag         mag_uncert                          Julian Date

   SN  B =   13.371   +/-   0.095  (ens  0.037 zp  0.087)    2457553.59891 
   SN  V =   13.154   +/-   0.045  (ens  0.038 zp  0.024)    2457553.58560 
   SN  R =   13.188   +/-   0.069  (ens  0.049 zp  0.049)    2457553.59188 
   SN  I =   13.665   +/-   0.109  (ens  0.077 zp  0.077)    2457553.59180 


---
Last modified 06/21/2016 by MWR.