Dec 3, 2011: Open House at the RIT Observatory
Tonight, you can see the Moon and Jupiter through our telescopes. In addition, we'd like to show you three features of the winter sky that are not quite so obvious.
The Pleiades is a nearby cluster of young stars, all born about 100 million years ago, when dinosaurs roamed the Earth. The light from these stars takes about 380 years to reach us.
The Double Cluster is a much younger set of stars, only 3 to 5 million years old. Since these clusters are much farther away -- perhaps 7000 light years from Earth -- they appear much smaller and fainter than the Pleiades. These stars are right in the middle of the Milky Way; can you see it tonight?
The Andromeda Galaxy is far beyond our own Milky Way. This galaxy of over 100 billion stars is over 2 million light years away from us!
The circles in the chart below show you where to find these three objects. Which one is which?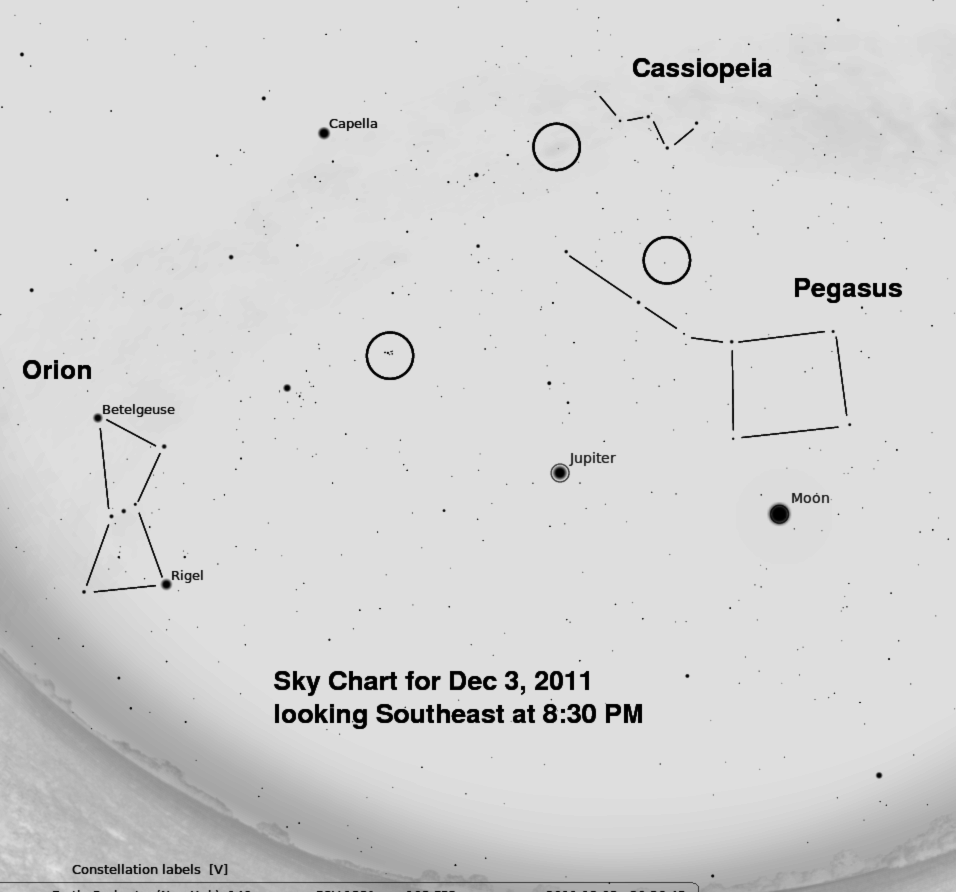 When you look at Jupiter tonight, you should be able to see four of its moons. Can you draw them in their apparent places in the diagram below?
After you've made your drawing, please ask for an answer sheet -- and you can find out which moon is which!

Io is covered with active volcanoes
Europa may have an ocean hidden under the miles of ice which over its surface
Ganymede is the largest of Jupiter's moons, and about 50% larger than our own Moon
Callisto has a slushy surface; in fact, almost half its entire body is made out of ices
Thanks for coming to the RIT Observatory! Please check our web page for future events.
http://www.rit.edu/cos/observatory/
Another good place to check is the Astronomy Section of the Rochester Academy of Sciences:
http://rochesterastronomy.com